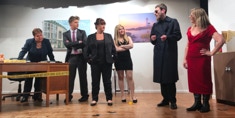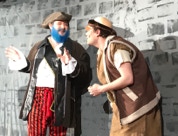 A Comedy 
Extravaganza! 
And the bride wore…
A delightful comedy by Bella Sposa, depicting the chaos a wedding can have on a family, especially when the two families don't exactly get on!
Corner's Last Case 
The Butcher of Baker Street is on the rampage and the best officer on the force has just been fired! Who will save the people of London now? Written by Martin Ward.
Bluebeard: 
The Pantomime
A Pantomime by Paul Reakes
26th-28th January 2017
We follow the dastardly actions of Bluebeard as he tries to woo the beautiful Flora Rockbottom. But Bluebeard's intentions are far from honorable; when he is bored with Flora "she will go the same way as all of the others", he says. To Flora's rescue comes her sweetheart Robin and the clumsy Fetch and Carrie who become involved in many shenanigans involving ghosts, poison and the inept antics of Bluebeard's sidekick, Lurkin.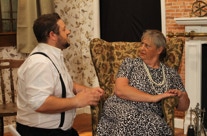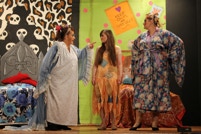 The Camels Back 
A Comedy by Arnold Helsby
9th-11th June 2016. Length: 3 hours
"Mr Hannacot, the Master of the house, has recently passed away. His final wish was to secure the future of his family and to ensure that his farm continued to run efficiently. In his will he insists that his sister, Prudence, should bring her business accumen to the farm. However, running a farm is rather different from running a successful draper's shop and her methods are not always welcomed by the family, the farm staff or the villagers. Throw in rehearsals for an upcoming local amateur dramatics society and you have even more problems on the farm!
Cinderella
A family pantomime 
by Warren McWilliams
28th-30th January 2016
Warren writes his pantomimes with amateur companies in mind, providing the opportunity for a number of members to play parts. He prides himself on developing strong characters and appealing to all ages.
This production didn't fail to deliver a magical panto! Fun for kids and adults alike, Cinderella sprinkled with magic, music and warm-hearted jokes across audiences in Soundwell.
The production was peppered with well known songs from artists as varied as Sister Sledge and Wham.